NANIKA Noodle & Bun Bar (mini version)
We are located at 72 Victoria Road in Glasgow, in the Victoria House building immediately south of the Shell station. While the new digs are much, much smaller than our old ones, we think it's a far more enjoyable experience for everyone involved. We're still overflowing with an eclectic assortment of delicious dishes and pillowy steamed buns, only now the music isn't some atonal drone and you can bring whatever tasty beer and/or wine you like.
We opened August 1st, 2018, amazingly without incident, and operate from 5pm-10pm Wednesday-Sunday.
This is the current menu: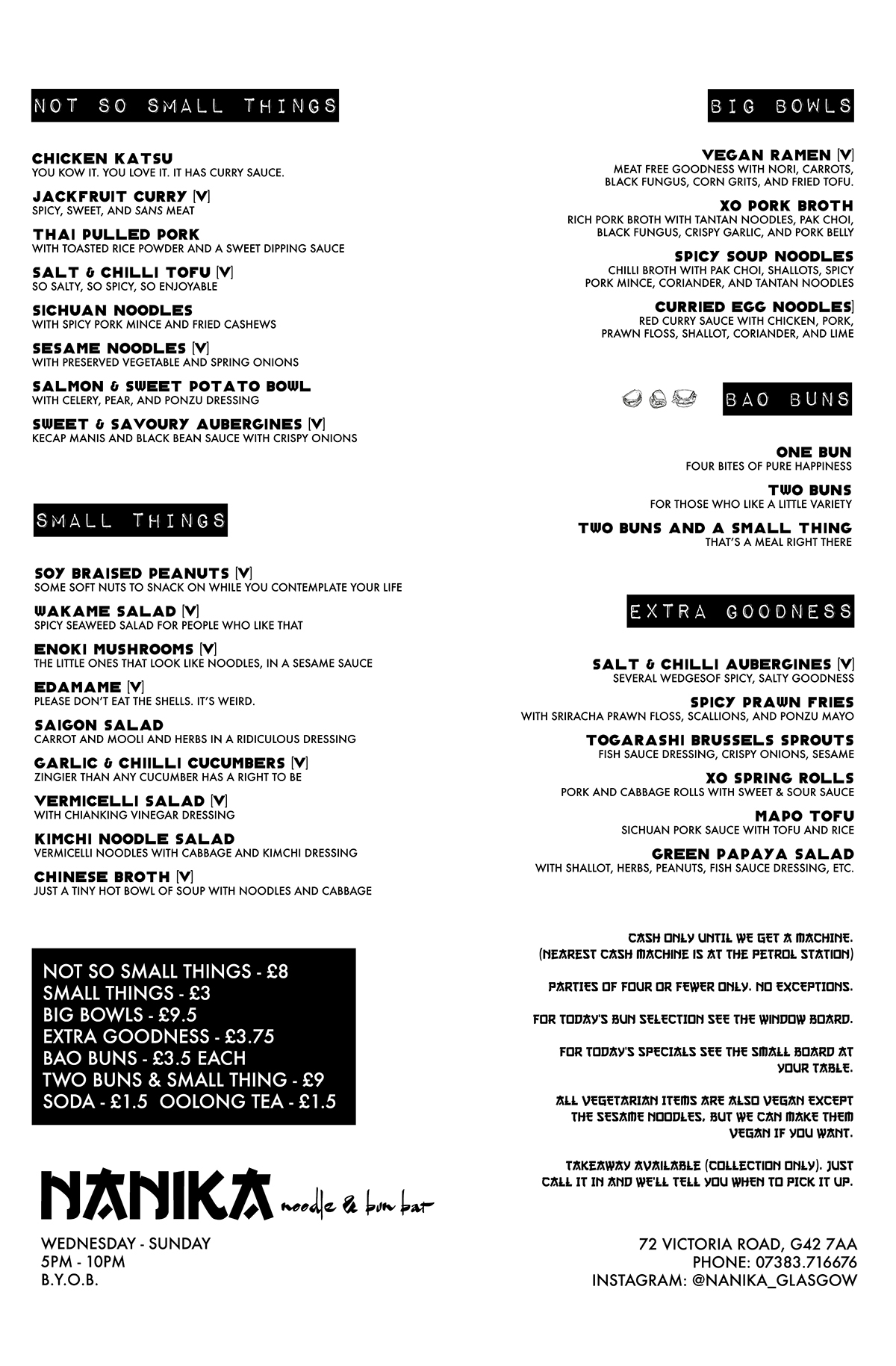 As the new digs are smaller than the average camper van, you will probably find yourself cozied up to some strangers. This is an excellent way to meet people and totally fits with our informal approach to everything, especially dinner. You may be asked to share a table or wiggle about to ensure everyone has a chance to eat. Don't be alarmed. This is both fun and educational, like a life-sized puzzle game.
We do not take bookings. If seats are unavailable you can hang out at Bar Vini and we will buzz you when a space opens up. You can also use our text-based queue system wherein you text "QUEUE?" and the number of people in your party to 07383.716676 and we will respond with either a "No, come on down" or an estimate of when a table will be free. Unfortunately, due to the size of the restaurant, we cannot accept parties in excess of four people. We can fit five at the outside table, but this is Glasgow and that table can only be outside for like ... three weeks a year.
Things to keep in mind:
We are a BYOB establishment. Corkage is £2.50, regardless of the number of beverages. You bring a bottle of wine? £2.50. You bring a few beers? Also £2.50. It's basically corkage per drinker, not per bottle, so if you've got some nice cans feel free to show them off.
We're cash only until we can find a reliable credit card merchant. There's an ATM at the petrol station next door, though.
We still offer takeaway, so if you can't squeeze in or if you just want to eat NANIKA in your pants while watching Netflix that can be arranged. Collection only for now. Just call it in. 07383.716676.
Queues are inevitable, so if you see people waiting please try to limit your dining time to 30 minutes (from the time your food arrives) so that others can enjoy the same experience.
New menu items constantly appearing and disappearing, as well as daily specials. In the meantime, we still have the classics.
Keep tabs on us via our boring Instagram.
If you have any questions, etc. shoot an email to nanika.glasgow@gmail.com and someone will reply to you eventually. Probably.
As always, thank you for enjoying what we do and remember: flavour is the only goal.